Collaboration and Community-Building in Contemporary Art in Japan and Denmark
Opening Remarks for CCCA Workshop No. 1, January 31, 2018
By Gunhild Borggreen, University of Copenhagen
About CCCA
The international research network Collaboration and Community-Building in Contemporary Art (CCCA) is supported financially by the Danish Agency for Science and Higher Education through the 9th International Network Programme. The International Network Programme is framed as an opportunity for initiating and exploring new networking and collaboration opportunities between researchers in Denmark and other countries. The aim of the programme is to give researchers an opportunity to build the foundation for future cooperation and to explore new research partnerships of a potentially high value.
The aim for the CCCA network as stated in our application is to develop a platform for studying socially engaged art in a globalized world. We hope the network can be a platform for scholars, artists, activists, curators, educators, and cultural managers to exchange the experiences and outcomes of socially engaged art movements across borders.
The network partners represent three relevant research areas at international research institutions: Professor Mōri Yoshitaka here at Tokyo University of the Arts (contemporary art and media studies), Associate Professor Anemone Platz at Aarhus University (anthropology), and Asssociate Professor Gunhild Borggreen at University of Copenhagen (contemporary visual art). Anyone can become a member of the network and appear on the membership list, as listed on the blog: https://ccca.sites.ku.dk/
For the two years 2018-2019, the proposed activities will include:
1) Four Preliminary Meetings for network partners
2) Four Workshops (two in Japan, two in Denmark) with 20 participants each.
Workshop No. 1 in Tokyo, January 2018
Workshop No. 2 in Japan, August 2018
Worskhop No. 3 in Aarhus, January 2019
Workshop No. 4 in Copenhagen, September 2019
3) Two Research Stays that will enable the three partners to conduct field study as a means to experience socially engaged art in situ. This includes a field study for Anemone Platz and Gunhild Borggreen at Echigo-Tsumari Art Triennale in August 2018, and a field study for Mōri Yoshitaka in Denmark (Møn?), August/September 2019.
The network activities will include discussions of methodological approaches to a study of collaboration and community-building in contemporary art on three levels: 1) A bilateral comparison in which the similarities and differences on national and municipal levels of cultural support systems and traditions between Japan and Denmark is taken into consideration; 2) A cross-disciplinary research approach that applies different research methodologies, theories, and traditions within media studies, art history, anthropology and cultural studies; 3) An inclusion of a variety of collaborators in socially-engaged art, including local residents, artists, curators, scholars, activists, educators, NGOs, etc.
The network will add value on three levels:
1) On a national level we hope to add value in terms of exploring the potential for community-based art projects as part of a solution for cultural and social challenges that Denmark and Japan share. Both Denmark and Japan experience a depopulation of rural areas, which creates a cultural and social divide between countryside and urban city.
2) On an academic level our aim is to add value in terms of exchange and development of methodological and theoretical insights into a cross-disciplinary field of art history, media studies, and anthropology. The network tests a common ground for exchange of knowledge across disciplinary and cultural boundaries.
3) On the individual level the network can add value to the individual participants in terms of personal relations, such as we are experiencing right now in these two days of workshop. The constellation of individuals will change from workshop to workshop, and hopefully these sub-networks may continue to thrive in the future.
Art festivals in rural Denmark
The reasons behind this network is a mutual interst in the ways in which contemporary art can contribute to new ways of rethinking society. Despite differences in the Japanese and Danish societies, the two contries are also part of global dynamics such as neoliberal economic structures, climate change, and migration flows across and within national borders. Both Japan and Denmark share many issues of social concern such as urbanisation, decline of traditional agricultural systems, depopulation in rural areas, and ageing population.
In both Japan and Denmark, art and cultural activities have become an important asset in terms of revitalising rural areas. While Denmark is not facing depopulation on the national level, as is the case of Japan, many areas outside the urban centres in Denmark are nevertheless experiencing a depopluation and an ageing community because young people move to the cities for education and jobs, and only seldom return to their native countryside. So rural areas have started using cultural events such as art festivals as a means to attrach young families to the area and to provide ways of enhancing the cultural capital of local communities
Some examples of recent art festivals in rural Denmark:
Well Come art festival (Lolland Falster Kunstfestival) in 2016 where an old ship sailed between small port towns in the southern part of Denmark for two weeks. The artist group Wooloo acted as curators for the vent. Wooloo's artistic concepts is to create social interaction among local residents though various types of activities, such as dialogue meetings and building a sculpture together, as well as cooking food and sharing meals together.
Another example is Grasslands festival in the summer of 2017, which engaged local residents in three small villages in the northern part of Denmark. One example is by visual artist Birgitte Ejdrup Kristensen and contains a village square in Junget that is re-paved with recycled stone from demolished houses in the village.
Another project in Grasslands is by visual artist Deirdre O'Mahony. She created the project Groundworks in the village of Åsted, where she collected an archive of old newspaper images from the village, and the local residents co-created the art work by transferring the image in large scale on the garble of their own homes.
Research in the social turn in contemporary art
Like in Japan, there is a number of individual scholars, networks and institutions engaged in research in participatory and socially-engaged art in Denmark. Many of the theoretical and art critical sources are the same, including concepts related to the so-called "social turn" in contemporary art that began in the 1990s and brought about concepts such as relational art, participatory art, socially-engaged art, collaborative aesthetics, dialogical aesthetics and similar concepts.
One example is Take Part, a research network of scholars, museum curators and art critics, who look at various forms of participation in contemporary culture and how participation in cultural activities can become a platform for citizens to have larger political and societal influence on everyday matters. Public museums in Denmark such as KØS Museum of Art in Public Spaces as well as Arken Museum for Modern Art, both located south of Copenhagen, are examples of how museum research and artistic projects focus on the participatory art.
The increasing interest in participatory aspects of contemporary art has lead to a shift in the ontological and epistemological approaches to art. This includes new ways of defining artistic pratice and its role in society, as well as new understandings of how art can produce knowledge and insight. There are three aspects that I find particularly relevant to investigate:
1) The relationship between the aesthetic and the social. How do we define new modes of socio-aesthetics that emphasize the mutual interdependence of the two dimensions?
2) The evaluations of the aesthetic and social aspects of art: can the effect be measured at all, and does it make any sense to try to instrumentalize art towards specific social goals?
3) Democratic principles: how can we secure social inclusion, diversity and equality
The KVÆK project
One of the reasons for establishing the CCCA network is to support a research project that is under construction. The project is entitled KVÆK in Danish, and is an acronym for Kulturel Værdi for Ældre gennem Kunst, which translates to "cultural value for elderly people through art" in English. The research team includes Associate Professor Gunhild Borggreen, Associate Professor Anemone Platz, free lance curator Jacob Kreutzfeldt, and the collaboration of a number of individuals and institutions in municipality of Vordingborg and specifically on the island of Møn.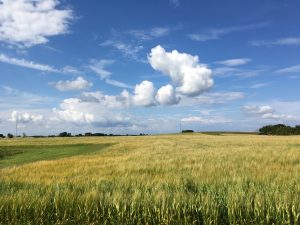 Landscape on the island of Møn
The KVÆK project was conceived as a means to address the ageing population in rural areas and to apply contemporary art as a means to create new types of communities across generations. In Denmark, elderly people are often seen as an economic burden to the welfare society, and many elderly people feel that their contribution to the society is not fully appreciated when they experience cut-backs in staff and services in elderly homes and health care institutions. Furthermore, statistics indicate that elderly people who live in scarcely populated areas in rural countryside are less involved in cultural activities than the national average.
So the idea behind KVÆK is to curate an art festival in a rural area of Denmark and engage artists to co-create with elderly people. Through co-creation it may be possible to turn the negative image of elderly as a burden to a positive image of elderly as a ressource because the art works may activate the knowledge and memories of the elderly people in regards to the local area, or draw upon their skills and handicraft from a long lifetime of farming, factory work or other occupation.
The KVÆK project is unique because there are no art festivals in Denmark that target the elderly population as a specific partner in participatory co-creation.
Three phases of research and practice
The project has three phases: in the first phase, we want to study examples of art projects in Japan that engages elderly people through co-creation. There seems to be many examples of art festivals and art projects in Japan with experience of this kind. We will use the Echigo-Tsumari Art Triennale in 2018 as a case because, according to festival founder Kitagawa Fram, the Echigo-Tsumari Art Triennale began almost twenty years ago with the idea of engaging the elderly population in the villages of Niigata-ken and restore a sense of pride and dignity to the people in the area. Furthermore, the Kohebitai volunteer organisation at Echigo-Tsumari Art Triennale appears to be a unique way of creating cross-generational interaction through art. So we are curious to know more about if and how the Echigo-Tsumari Art Triennale creates new forms of communities for the elderly population, and whether or not the art festival has improved the life quality for the elderly in the area.
We plan to do field research in which we choose a number of specific art projects at the coming Echigo-Tsumari Art Triennale and follow the works by using a multidisciplinary approach: that is, to analyse the aesthetic properties of the artwork, to analyse the performative elements of the festival framework, and to conduct qualitative ethnographic research in the form of observation and interview with the elderly people involved in the project or those who live near by but are not involved. How has the artwork and the festival in general influenced their daily life? Is there any connection between the performative elements, the aesthetic properties and the social effect, and if so, how are they connected?
The second phase is to analyse the various types of information that we gather during the Echigo-Tsumari art Triennale and try to conclude some overall principles about the social effect of the art festival and art projects in regards to elderly people. Parts of this phase will also include reflections on how to transfer the knowledge and experience of the study of a Japanese art festvial to another place, another cultural context.
The third phase is to concieve and curate a small-scale art festival on the island of Møn in the south-eastern part of Denmark. The island of Møn draws a rather large number of turists in the summer season because of the natural environments, among other things the large cliff of calicum on the east side of the island. The island of Møn has recently been nominated a UNESCO Biosphere reserve, and has also been designated as a Dark Sky Park where the scientific and cultural aspects of nocturnal darkness is preserved.
The social and cultural life on Møn
The island of Møn is a traditional farming community, and in the 19th century the main agricultural product were sugarbeets. There was a large sugar production factory in Stege, the main town of Møn, and many people on the island where employed in the sugar industry. However, the sugar factory closed down in 1989 due to international competition in sugar production, and the empty spaces of the sugar factory is now being transformed into spaces for cultural events, Sukkerfabrikken.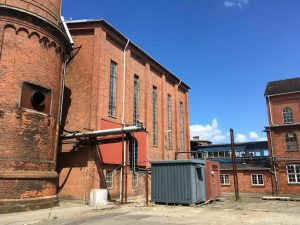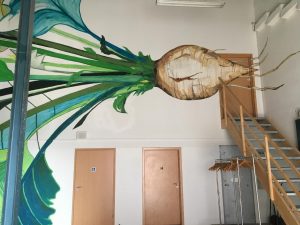 From Sukkerfabrikken (the Sugar Factory) and Mia Sloth Møller's Sugarbeet painting
Visual artist Mia Sloth Møller painted a giant sugarbeet on the walls inside as a reference to original history and purpose of the buildings. While Mia was painting the image, an elderly man, who used to work on the factory, passed by and made a comment on the way in which Mia had depicted the sugarbeet, and pointed out that some part were missing in her painting. Having handeled sugarbeets for decades when he was working at the sugar factory, he certainly knew what a sugarbeet looks like. The artist made the appropriate changes in the image to accommodate the knowledge of the former factory worker. We can say that this is an example of co-creation in which the knowledge and memory from a local resident is embedded in the artwork.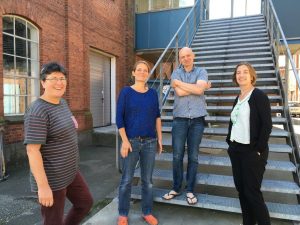 From left: Anemone Platz, Mia Sloth Møller, Jacob Kreutzfeldt and Signe Jacobsen
The island of Møn has many cultural activites. A number of artists have moved to the island and established artist communities already back in the 1970, for example the late composer and Fluxus-artist Henning Christiansen, and the artists Bjørn Nørgaard and Ursual Reuter Christensen, who still live on Møn today. Bjørn Nørgaard is known for his radical performance art and activist projects in the late 1960s and early 1970s, such as the slaughter of a horse in 1970, a performance piece made together with Henning Christiansen and Lene Adler Petersen. Ursula Reuter Christiansen made radical feminist art films in the 1970s and is still active as a painter. Since 2008 Bjørn Nørgaard and Ursual Reuter Christiansen together with with German curator and art collector René Block have run an international art space called Kunsthal 44 Møen. This year, Kunsthal 44 Møen received a cultural prize from the municipality which allows all residents on the island free entrance to the gallery for a whole year.
More recently, young artists have started moving to Møn, such as the video artist and photographer Thomas Bagge, who is also active in the local municipal art committee, and Jacob Kreuztfeldt, who is part of our research team and also a curator for sound-based art projects and has moved to Møn with his family.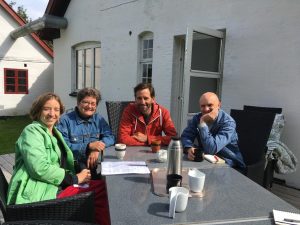 From left: Signe Jacobsen, Gunhild Borggreen, Thomas Bagge, Jacob Kreutzfeldt
However, despite examples of young families moving there, the island of Møn is experiencing a rise in the number of elderly people these years, and it is predicted that it will keep rising the next 10 years or more. When we think about what kind of art projects we would like to curate for our small art festival on Møn, we need to consider the different kinds of interest in art and culture that may be represented in the elderly population. Like any other demographic group, there is a variety of personal taste and preferences among senior citizens. A part of the elderly population on Møn are interested in art and culture and they participate actively in local events such as openings at the Kunsthal 44 Møen.
However, there are also elderly people on Møn, who may not be interested in art and cultural activities at all. How can we make sure that our art festvial is inclusive but not intrusive? How can art projects be able to engage people who dislike contemporary art and would rather tend their garden? How can their local knowledge and memory be activiated as a ressource that can provide insight in the area for other local people, for visitors and for newcomers?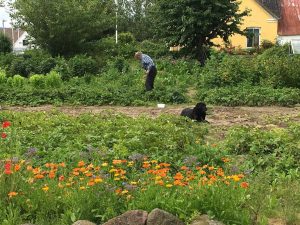 Inclusive, but not intrusive?
Summary of research questions
To sum up: the CCCA network deals with collaborative and community building art practices and research. We hope to expand the network with many other projects and geographical areas.
In relation to the KVÆK project, we are particularly interested in knowing more about art projects in Japan that co-create with elderly people and establish cross-generational interaction.
We would also like to discus methodological issues: it is possible to combine aesthetic analyses and ethnographic fieldwork? How do we evaluate and theorize about collaborative and community-building art?
Finally, we ask if knowledge and experience from one place in the world, for example the Echigo-Tsumari Art Triennale in Japan, can be applied in a meaningful way to another place in the world, such as the island of Møn in Denmark? How can we transfer insights that are linked to a specific site and cultural context to other sites and cultural contexts without loosing the inherent aesthetic and social qualities?